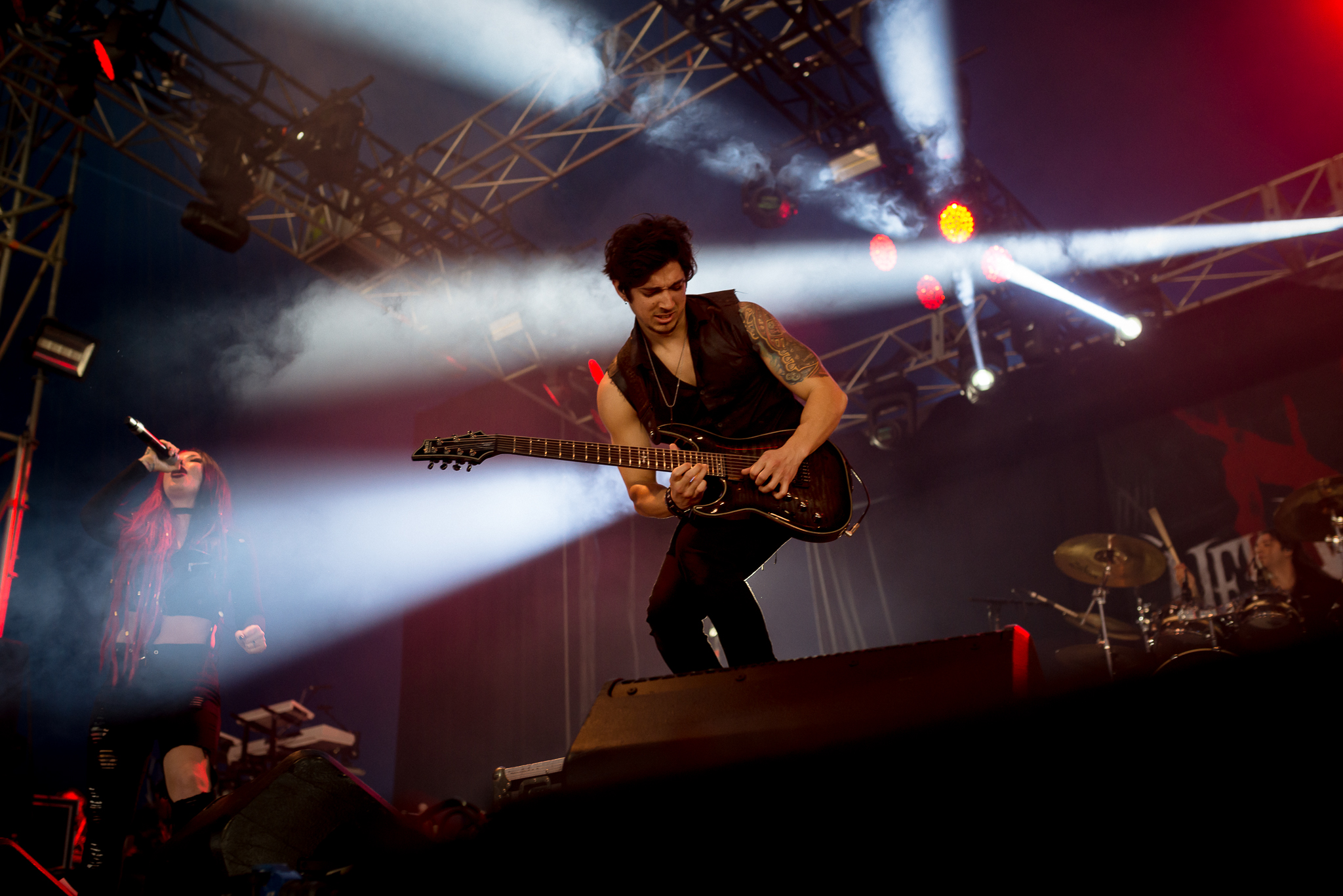 CLICK HERE TO VIEW THE DOWNLOAD FESTIVAL GALLERY BY STEPHEN BOXSHALL
By Jason Beardsley
Date / Venue: Monday March 11th, 2019 - Flemington Racecourse, Melbourne, Australia

Flemington; home of the Melbourne Cup, and fashion and entertainment in Australia. The streets are lined with perfectly manicured grass and the gardens are glistening on this fine autumn day. Everything is peaceful. It's around lunch time when all of sudden, we link up with the beating heart of the Australian music industry. Fans of rock and metal unite in solidarity in a time when we are fighting against the great Australian Festival Apocalypse. We are here at Download Festival Australia 2019, fighting for the future of our industry, fighting to save our jobs and our livelihoods.

Naturally safety is paramount and of course, with that comes security checks. Our entry to the festival site is barely delayed as the security staff have the process down to a fine art. The weather is perfect, a bit of cloud cover ensures the temperature is kept to an optimum temperature of around 20 degrees. We are equipped with sunscreen and water bottles: We are ready for battle. The Premier of New South Wales has declared we are not safe attending such events but alas we are prepared for the worst. What followed, however, is a story of solidarity, of love and prosperity.
Our first target on the list is West Australians Voyager who are opening the Red Stage. A healthy crowd are on hand, it's early but it's "not too early for red wine" claims front man Daniel Estrin. Voyager get the blood boiling with their brand of Australian-made prog. metal, performing music worthy of stadiums, worthy of the adoration that Download Festival fans are emanating.
Before we set off to blow our weeks salary on merchandise, we catch Tasmanian punk rock rising stars, Luca Brasi. The band deliver a set so full of energy not even the Bass Straight could stand in its way. Australian acts are leading the way early. A beacon of hope in this rollercoaster of musical turmoil.
After many of the merchandise items sold out early last year, we got in line early at the merchandise tent closest to the main stages. There is plenty on offer from all bands. Download Festival have their designs on point and we walk away with our fair share. Strategically placed is a bar wedged between the merchandise tent and the Main Stage. Young Henry's Cloudy Apple Cider and Mid-strength beer is the Flavour of the Day and they easily held that title.
Speaking of beers, up next was a band that was added at late notice. A band that deserves far more love and attention than they have got here in Australia: Warrnambool's own, Airbourne. They may have been added after the late withdrawal of Ozzy Osbourne, but Airbourne stole the show.
The four to the floor rock and roll that has been done by so many has never been executed as well as this. You can see why the Europeans fell in love with the band. High Octane chaos is one way to describe it. Singer Joel O'Keeffe is on fire; something has possessed him and he has mesmerised his hometown audience. He's smashing beer cans on his head and surfing through the crowd on a crew members shoulders. The audience was relatively subdued up until this point, Airbourne, however, got the party started.
I am reminded by air raid sirens that this is supposed to be a dangerous place according to a certain government, but I don't feel it, I'm ok, we are all safe and having a damn good time. The day rolls on, there is so much to enjoy. There is so much we have missed out on since the likes of Big Day Out and Soundwave went six feet under.
I Prevail definitely prevailed with a heavy set ensuring metal fans got their taste of the Wall of Death and circle pits. Behemoth and Amity Affliction were also notable mentions with tight blistering sets.
Once again Download Festival organisers have executed a well balanced and well organised Festival site. I have noticed a large attendance of disabled patrons. Wheelchair accessibility is excellent. At the main stages in front of the sound tent is a large area designed for wheelchairs, elevated high enough for patrons to see over the mosh pit and see their favourite acts.
With all the action happening at the four stages over 10 hours it is imperative to be able to get some shade from the hot Australian sun and have a break. In the middle of the Festival site, away from the stages, there is a large area comprising of food trucks and market stalls, there is something for everyone. We indulged in some pulled beef rolls and fries from The Rib Crib.

After some lunch we had our attention caught by a Haka coming from the Ascension Stage near the food truck site. A large crowd had gathered. New Zealand teenaged sensations Alien Weaponry brought their truly unique brand of Te Reo metal (Maori Language) to the masses in Australia. The band became a success story overnight and were received well by the Australian metal community. The aggression that we witness during the famous Haka was brought to a new level by Alien Weaponry. This band is destined for great things. Keep an eye out for them in the future. What they are doing for Maori Culture and New Zealand music is nothing short of incredible.
Rise Against and Alice In Chains were up next over at the Main Stage and by now there was a huge number in attendance. The cancellation of Ozzy did not deter the fans in the slightest. Rise Against gave us plenty of sing-along anthems full of anarchy with some special guests thrown in the mix. Alice In Chains, one of the kings of the 90's grunge era, brought all the nostalgia of that era back. The crowd were boisterous, singing every lyric at the top of their lungs. The atmosphere was electric to say the least.
The nostalgia carried over to the Avalanche Stage as Canadian pop punk sensations Sum 41 had the large audience in raptures. Sum 41 tore through a set of their greatest hits leaving no stone unturned for their fans that had waited so long for their return. "I don't know what took us so long to return, I guess we're just a bunch of assholes!"
I have been awestruck at the calibre of Australian and New Zealand acts at this festival. To be honest these bands have blown away the international power houses. It started with Voyager, continued through to Airbourne, Alien Weaponry and Devilskin, before culminating in an electric performance on the Dog Tooth Stage: Melbourne hometown favourites Twelve Foot Ninja. One of the most unique, fun and intense bands you will ever see. A large and loyal fan base gathered as they delivered a master class. Twelve Foot Ninja have taken funk, metal and jazz and have managed to annihilate the barriers that ever prohibited these genres becoming one. Genius.
As the festival drew to a close we were spoilt by choice. The decision making process was hard as to what Bands to see. Slayer were bringing the house down on the Main Stage on their final World Tour, rewarding their fans with a set full of their greatest hits, accompanied by a dramatic stage design. Halestorm were closing the Dog Tooth Stage with Lizzy Hale's unmistakable voice pounding the backdrop of Flemington Racecourse with raw power and ferocity. Drummer Arejay Hale would have to be my pick for Drummer of the Day with his flamboyant and hard hitting style setting the place alight. After multiple tours together with New Zealand heavyweights Devilskin, Drummer Nic Martin joined Arejay on stage for a drum solo for the ages.
The act that drew us in to finish the day however was Swedish doom-metal royalty, Ghost. They are mysterious, they leave you wanting more. It was operatic. There was no dead noise between songs. The set design including the lighting was something I had never seen before. Who is Ghost? They stole the show. I carry this burden now. I have to see this band again.
Whilst there were some interesting characters, a lack of sunscreen and some loud music, the day was not dangerous. At no point did we feel unsafe. Today we witnessed greatness. Today this community felt alive. In the words of Joel O'Keeffe, "as long as we are alive, as long as these fans are alive, Rock and Roll is alive."
Let's not allow those we elect into power take the music away.